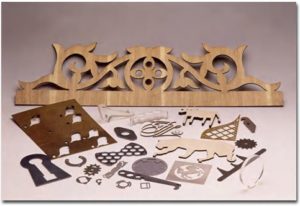 Mag-Knight Custom Laser Cutting Service information: What cannot be readily die cut by a steel rule die can often be processed by our laser cutting machinery. Like our diecutting service, quantities from 1 or 2 to full production are easily handled. We will take your design or CAD file and laser cut it out of your material of choice. Single pieces as large as 48″ x 84″ can be laser cut at one time. Depending on the material and thickness, parts can be cut to within thousandths of an inch accuracy. Prototyping prior to production is an ideal application for laser cutting. Dimensional and geometric changes can be made and new parts cut with minimal effort and expense.
Custom Laser Cutting Service Materials:  See our materials section for preliminary recommendations on laser versus die cutting. Each process has its advantages over the over.  Our engineers will choose the most efficient process for your project.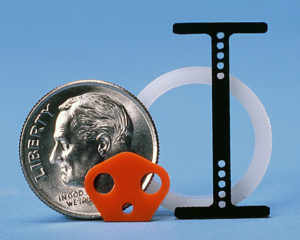 Laser and die cutting differ in the fact that die cutting uses templates, or steel rule dies,  to punch parts out over and over.  Laser cutting uses a focused beam of plasma to burn its way through materials such as steel, aluminum, acrylic, wood, lexan, or any other hard material that generally resists a temporary burst of plasma.  The plasma head follows a pre-determined patch generated from a cad file to cut the part.   Because of these factors, lasers are best suited for harder parts (see photo of laser diecuts above) that generally resist temporary bursts of flame. 
Watch our laser cutting demo on how this machine works!
Custom Laser Cutting Demo